| | | |
| --- | --- | --- |
| Welcome | | You are not currently logged in. |
Organize Today!

Looking for more information on Organizing your workplace?
Click Here
Know Your Weingarten Rights!
If an employee has a reasonable belief that discipline or other adverse consequences may result from what he or she says, the employee has the right to request union representation. Management is not required to inform the employee of his/her Weingarten rights; it is the employees responsibility to know and request.
"If this discussion can in any way lead to me being disciplined, I respectfully request union representation before I answer any questions"
Protect yourself! Learn it, use it!
A Message From The President
The Executive Board welcomes all Communications Workers of America, AFL,CIO Local 1120 members to our web page. The purpose of this web page is to provide a means of supplying information about our local and labor issues. To all cwa local 1120 members. I want to thank all of my fellow union brothers and sisters for their commitment, and determination in keeping our local strong. Together we can overcome any challenge that we may face.
Frank J. Fauci Jr.
President, CWA Local 1120
We must guard against being fooled by false slogans, such as 'right to work.' It is a law to rob us of our civil rights and job rights.
Its purpose is to destroy labor unions and the freedom of collective bargaining by which unions have improved wages and working conditions of everyone…Wherever these laws have been passed, wages are lower, job opportunities are fewer and there are no civil rights. We do not intend to let them do this to us. We demand this fraud be stopped. Our weapon is our vote."
Martin Luther King
| | | |
| --- | --- | --- |
| | | |
| | | |
| | | |
As you already know,
CWA

,

IBEW

and
Verizon began meeting for a two-week period to attempt to negotiate the terms of a possible extension to the collective bargaining agreements that are set to expire in August 2019. We have agreed with the Company to extend the negotiations for a few additional days after the holiday. Meetings are expected to resume in the middle of next week.
We will provide additional updates as appropriate.
Hope you all have a happy and safe holiday.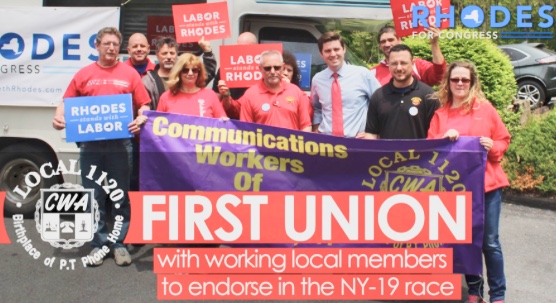 For too long, working men and women in this country have had no voice in Congress. We have been left behind. That's why today, as President of the Communication Workers of America Local 1120, I was proud to stand with members and endorse Gareth Rhodes to take on John Faso this November.

Gareth's working class and deep local roots, record of public service and government experience, and shoe-leather approach to campaigning make him the most electable candidate. And we know Gareth will be the voice for hard working families in the Hudson Valley and beyond and will be our champion in Washington. Will you stand with CWA and support Gareth Rhodes for Congress?

Gareth is a blue collar candidate. He knows what it means to give your blood, sweat and tears to a job. He knows the real life struggles of the American Worker. And we KNOW he has our back. That's why CWA 1120 is proud to support Gareth Rhodes for Congress.

As the first union with local members working in NY-19 to endorse a candidate in this race, CWA Local 1120 truly believes Gareth is the bold voice needed to bring the concerns of working people to Congress. He is the candidate that best represents organized labor and can win.

We're behind him. I hope you are too.

Frank J. Fauci Jr.
President, CWA Local 1120
TO: Verizon Local Presidents
FROM: Dennis G. Trainor, Vice President - District One
DATE: May 18, 2018
As you know, our current collective bargaining agreement with Verizon does not expire until August, 2019, a little less than 15 months from now.
However, Verizon, CWA and IBEW are jointly announcing today that we will be entering into two weeks of bargaining beginning June 18, 2018 to determine whether it is possible to agree on the terms of a contract extension.
This development reflects an improved relationship with the company since the conclusion of our strike just about two years ago. We will keep you posted on further developments
CWA 1120
QUARTERLY
MEETING
Tuesday
May 22, 2018 at 6pm
NOVELLA'S
2 Terwilliger Lane
New Paltz NY
Scholarship Final deadline for applications is April 30, 2018.
Sixteen partial college scholarships of $4,000 each are being offered for the 2018-2019 school year. Winners, selected in a lottery drawing, also will receive second-year scholarships of the same amount contingent upon satisfactory academic accomplishment. Part-time students, less than 12 credits, will receive half of the scholarship monies.
Eligible for the awards are CWA members and their spouses, children and grandchildren, including those of retired or deceased members.
Click here for more infomation on Joseph Beirne who is considered CWA's founding leader.
Click here for SCHOLORSHIP APPLICATION and information.
Click here for Scholarship Information Poster.
As of January 1, 2018, most employees who work in New York State for private employers are eligible to take Paid Family Leave. If you are a public employee, your employer may choose to offer Paid Family Leave.
New York's Paid Family Leave provides job-protected, paid time off so you can:
bond with a newly born, adopted or fostered child;
care for a close relative with a serious health condition; or
assist loved ones when a family member is deployed abroad on active military service.
You can continue your health insurance while on leave and are guaranteed the same or a comparable job after your leave ends. If you contribute to the cost of your health insurance, you must continue to pay your portion of the premium cost while on Paid Family Leave.
Click here to view complete details on NY Paid Famiy Leave
Paid Family Leave Request Forms
Click here for forms to Bond with a Newborn, a Newly Adopted or Fostered Child
Click here for forms to Care for a Family Member with Serious Health Condition
Click here for forms to Assist Families in Connection with a Military Deployment