| | | |
| --- | --- | --- |
| Welcome | | You are not currently logged in. |
Organize Today!

Looking for more information on Organizing your workplace?
Click Here
Know Your Weingarten Rights!
If an employee has a reasonable belief that discipline or other adverse consequences may result from what he or she says, the employee has the right to request union representation. Management is not required to inform the employee of his/her Weingarten rights; it is the employees responsibility to know and request.
"If this discussion can in any way lead to me being disciplined, I respectfully request union representation before I answer any questions"
Protect yourself! Learn it, use it!
A Message From The President
The Executive Board welcomes all Communications Workers of America, AFL,CIO Local 1120 members to our web page. The purpose of this web page is to provide a means of supplying information about our local and labor issues. To all cwa local 1120 members. I want to thank all of my fellow union brothers and sisters for their commitment, and determination in keeping our local strong. Together we can overcome any challenge that we may face.
Frank J. Fauci Jr.
President, CWA Local 1120
We must guard against being fooled by false slogans, such as 'right to work.' It is a law to rob us of our civil rights and job rights.
Its purpose is to destroy labor unions and the freedom of collective bargaining by which unions have improved wages and working conditions of everyone…Wherever these laws have been passed, wages are lower, job opportunities are fewer and there are no civil rights. We do not intend to let them do this to us. We demand this fraud be stopped. Our weapon is our vote."
Martin Luther King
| | | |
| --- | --- | --- |
| | | |
| | | |
| | | |
CWA
QUARTERLY
LOCAL MEETING
Tuesday
January 21, 2020
6:00 P.M.
NOVELLA'S
2 Terwilliger Lane
New Paltz
VZ SURPLUS 4thQtr 2019
CWA 1120 is FFA 3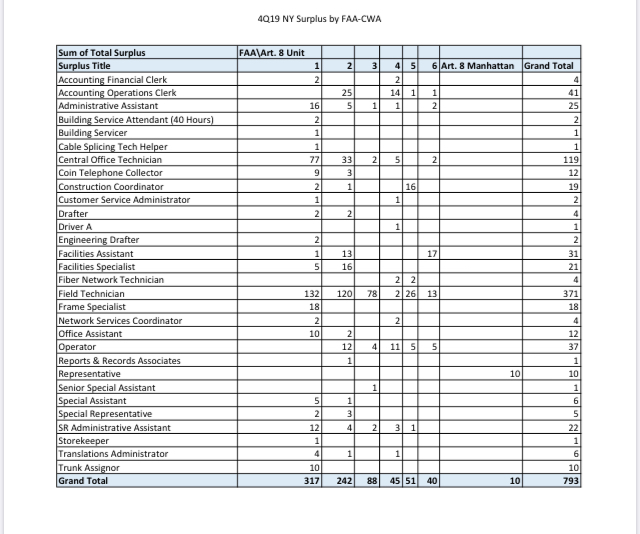 CWA
QUARTERLY
LOCAL MEETING
Tuesday
November 19th, 2019
6:00 P.M.
NOVELLA'S
2 Terwilliger Lane
New Paltz
The 2020 Annual Open Enrollment Dates are as follows:
October 8, 2019 to October 17, 2019 – (these dates are for Active employees and Retirees)
This is your opportunity to review your benefits and make any changes to your benefits.
Retirees are urged to make any changes during the annual enrollment period; however they continue to have "Anytime Enrollment". When a retiree makes a change outside of the Annual Enrollment period, the change is effective the first of the month following a 30 day period. So, under "Anytime Enrollment" a retiree could make a change up through November 29, 2019 to be effective January 1, 2020.
All other 2019 Elections and designations automatically carry over into 2020 Annual Enrollment, Members who want to stay with their plan without any changes don't need to do anything.
If you have a Qualified Life Event between now and the end of the year, you will need to make changes on BenefitsConnections for both 2019 and 2020. Examples of a Qualified Status Change are adding a spouse if you get married, adding a child when there is a birth of a new baby etc.
Annual Enrollment Guides will be sent to employees and retirees during the week of beginning September 23rd.
Health Assessment Credit
· Any member who previously completed a Health Assessment will receive the $100 Health Assessment credit in 2020. If you wish to update it, you can do so at any time.
· If you are not currently receiving the Health Assessment credit, complete the Health Assessment before January 1, 2020 to receive $100 credit toward your annual medical plan contributions for 2020.
Non- Tobacco User Credit - $600
· If you are a non-tobacco user and are already receiving credit, no further action is needed.
· If you are not receiving this credit and DO NOT use tobacco products, indicate your NON-TOBACCO status on BenefitsConnection to receive your $600 credit towards your annual medical contributions.
· If you and your covered dependents DO USE tobacco products but have completed a tobacco cessation course within the last six months indicate your status on BenefitsConnections during Open Enrollment for the full credit.
· If you have NOT yet completed a tobacco cessation course, you can earn the full Non-Tobacco Credit in 2020 if you and/or your covered dependents satisfy the reasonable alternative standard as follows:
1) During Annual Enrollment, log on to BenefitsConnection and answer the Tobacco User Status question while completing your Annual Enrollment elections: - answer YES and intend to complete a tobacco cessation course before July 31, 2020.
2) Before July 31, 2020, complete a tobacco cessation course such as QuitNet or the Verizon HealthZoneHealth Assistant, and log on to BenefitsConnection. Answer the Tobacco User Status question: YES and completed a tobacco cessation course within the last 6 months.
You MUST update your Tobacco User Status response by July 31, 2020 in order to receive the full Non-Tobacco credit. Any update made to your tobacco user status after July 31, 2020 will result in a prorated credit for the remainder of the year.
Retirees:
Your contributions depend on your retirement date, your net credited service date and the medical plan option you select.
For all retirees who retired after January 1, 1992, with a net credited service date before August 3, 2008:
The labor contracts provide for limits on the amount the Company will contribute toward retiree medical coverage. These limits are referred to as retiree medical caps.
In the 2020 plan year, the cost of coverage of each of the Medicare plan options is less than the applicable retiree medical caps.
For the 2020 plan year, the cost of coverage for the pre-Medicare MEP HCP plan option will exceed the applicable retiree medical caps. The excess amount is less than the currently required premium for retirees with a retirement date on or after January 1, 2013 so it will not have any effect on the premium contributions those retiree pay. Retirees with a retirement date before January 1, 2013 will be required to pay the excess amount in the form of monthly premium contributions in order to remain enrolled in the pre-Medicare MEP HCP plan option. After discussions with the Company, an alternative to the pre-Medicare MEP HCP was agreed to and will be offered for the 2020 plan year. The annual cost of coverage of the pre-Medicare MEP HCPAlternative Plan is equal to the applicable retiree medical cap for all coverage categories therefore requires no premium contributions for retirees with a retirement date prior to January 1, 2013.
This chart shows the contribution amounts:
MEP HCP

MEP HCPAlternative

Coverage category

Retired before January 1, 2013

Retired on or after January 1, 2013

Retired before January 1, 2013

Retired on or after January 1, 2013

Retiree Only

$15.92

$39.33

$0.00

$39.33

Retiree + 1

$31.92

$67.42

$0.00

$67.42

Retiree + Family

$38.00

$67.42

$0.00

$67.42
Please refer to the Annual Enrollment Materials for more details.
In the 2020 plan year, the cost of coverage of the pre-Medicare EPO and Aetna HMO plan options will exceed the applicable retiree medical caps, and this excess amount over the retiree medical caps is greater than the annual minimum contribution for all retirees.
Your current elections will automatically continue unless you make a change.
The billing process will remain unchanged from the process that is in place today for those who are already making contributions.
·Anyone that is enrolled in a benefit that requires contributions will receive a bill.
·Bills are mailed by the 15th of each month with a due date of the first of the following month.
For example, the bill for the contributions for January 2020 will be mailed/posted to the web by December 15, 2019 with a due date of January 1, 2020.
Retirees can elect to have contributions paid via ACH debit or pension deduction:
Because ACH direct debit is the fastest and easiest way for a retiree to pay for coverage, it is highlighted on each monthly invoice that is mailed home to encourage enrollment. The retiree can enroll in this option on the secure BenefitsConnection website by providing his/her routing and checking account number. The balance due would be debited out of their account on the first business day of the month. For example, January's balance would be debited on 1/2/2020.
A retiree who is receiving a monthly pension also has the option to have his/her deductions taken from their pension check. A retiree would have to call the Benefit Center and speak with a representative to enroll in this option.
Life & Accidental Death & Dismemberment Insurance (AD&D)
Annual enrollment offers you the opportunity to make changes to your current life insurance coverage amounts and/or waive coverage. The rates for coverage are based on age ranges. As you and your spouse fall into a new age band your costs could increase. If you choose to continue your coverage, no further action is required.
Verify you beneficiary status to make sure it is accurate and up to date.
Confirmation Statements
Similar to last year, confirmation statements will not be distributed to employees and retirees. Confirmation statements can be printed out on the BenefitsConnection website or one can be requested by calling the Benefits Center.
Attached are the 2020 Annual Enrollment materials which will begin mailing next week.
If you have any questions, give either Billy Gallagher or me a call.
Today we remember a national tragedy. The memories of that day are etched in our minds forever. Thousands of lives lost. Families were shattered. Mothers, Fathers, Children and Friends were taken from us.
We lost numerous CWA members in the tower collapses and the plane crashes that fateful day. And at 9:59 we lost a hero when our CWA 1120 brother Paul Tegtmeier was killed when the South Tower collapsed. Please take a moment to remember those lost. We shall never forget.
Frank J Fauci Jr.
CWA
QUARTERLY
LOCAL MEETING
Tuesday
September 17th, 2019
6:00 P.M.
NOVELLA'S
2 Terwilliger Lane
New Paltz
Verizon Summer Camp Reimbursement Program is Open!
The 2019 Summer Camp includes summer day programs as well as overnight camp programs and is made available through the Local and NY/NE Regional Work & Family Committees, a joint Verizon/CWA program. Summer camp reimbursement and Dependent Care reimbursement are bargained for benefits.
The fund will reimburse up to $600.00 per child for summer camp expenses incurred between July 1, 2019 through September 1, 2019, for up to two (2) children per family. Employees who participate in the Dependent Care Reimbursement Fund (DCRF) during the school year can either continue to receive childcare reimbursements for their regular Dependent Care Expenses or if they wish they may enroll their child in a summer camp program.
To be eligible, children must be 3 years but not yet 15 years old. If married, the employee and spouse must both be employed at the time the child(ren) are enrolled in camp.
The deadline to submit your application and accompanying documentation is August 23, 2019. The application includes a signature from the Camp Director, so be sure to read through the information before your child goes to camp and bring the application to camp with you.
Forms and more information can be found at...