| | | |
| --- | --- | --- |
| Welcome | | You are not currently logged in. |
Organize Today!

Looking for more information on Organizing your workplace?
Click Here
Know Your Weingarten Rights!
If an employee has a reasonable belief that discipline or other adverse consequences may result from what he or she says, the employee has the right to request union representation. Management is not required to inform the employee of his/her Weingarten rights; it is the employees responsibility to know and request.
"If this discussion can in any way lead to me being disciplined, I respectfully request union representation before I answer any questions"
Protect yourself! Learn it, use it!
A Message From The President
The Executive Board welcomes all Communications Workers of America, AFL,CIO Local 1120 members to our web page. The purpose of this web page is to provide a means of supplying information about our local and labor issues. To all cwa local 1120 members. I want to thank all of my fellow union brothers and sisters for their commitment, and determination in keeping our local strong. Together we can overcome any challenge that we may face.
Frank J. Fauci Jr.
President, CWA Local 1120
We must guard against being fooled by false slogans, such as 'right to work.' It is a law to rob us of our civil rights and job rights.
Its purpose is to destroy labor unions and the freedom of collective bargaining by which unions have improved wages and working conditions of everyone…Wherever these laws have been passed, wages are lower, job opportunities are fewer and there are no civil rights. We do not intend to let them do this to us. We demand this fraud be stopped. Our weapon is our vote."
Martin Luther King
| | | |
| --- | --- | --- |
| | | |
| | | |
| | | |
Following negotiations with the Communications Workers of America and Verizon we have announced that Verizon will pay a $300 weekly bonus above its regular pay rate to CWA members that are unable to work from home. This bonus will be in effect until further notice due to working conditions being presented by the coronavirus pandemic.
For further assistance please reach out to your Business Agent.
In the past days, the US Congress and the NYS legislature passed a flurry of emergency relief packagestrying to address urgent needs due to the COVID-19 outbreak.
We are providing some fact sheets on the laws that passed.
On the federal level, the Families First Coronavirus Response Act which was signed into law on Wednesday, March 19th, gives many American workers short term (2 weeks) and long term (12 weeks) paid leave if they need to take time off work because of the virus, But the measure excludes nearly half of private-sector workers, because employers with over 500 employees are excluded from coverage. Congressional Republicans and Trump argued that those employers should be responsible for paying sick leave for their workers, even many low wage workers at employers like McDonald's do not have any such coverage. The law will go into effect on April 2nd, 2020.
On the state level, Governor Cuomo signed a similar law on Wednesday which also provides 2 weeks of paid leave and other benefits to employees who are subject to a mandatory or precautionary order or quarantine or isolation due to COVID-19. The law immediately went into effect.
The federal bill is meant to be a floor and not a ceiling (as Paul Simon once sang, "one man's ceiling is another man's floor)meaning if the state bill is stronger, than the stronger language shall apply. Where there are collective bargaining agreements, the paid sick time applies in addition to whatever employer-provided paid sick time exists.
The state has also waived the seven-day waiting period for unemployment insurance benefits for people who are out of work due to closures or quarantines related to the Coronavirus, according to the State Department of Labor.
Here are some useful links to share from the AFL:
https://nysaflcio.org/covid-19-nys-agency-guidance
For Immediate Release
More Press Information contact:
RaeAnne Nocera, Executive Director
845-568-6100 x 1004
raeanne@healthykidsprograms.com​ Date: 18-March-2020

Healthy Kids Programs announces the Opening of Emergency Full Day Childcare Programs
New Windsor and Poughkeepsie, NY​ - ​Healthy Kids Programs​ announces the opening of emergency childcare programs in New Windsor and Poughkeepsie to provide full day childcare to children of first responders, the medical community and other essential personnel who are needed to deliver critical services but have their children home. Healthy Kids Programs has 3 emergency childcare centers open and ready to accept children from 6 weeks to age 12 provided they are not showing any sign of illness (fever, coughing, etc.). Spaces at all locations are limited.
● First location is the Union Avenue Community Fitness Center​ at 565 Union Avenue New Windsor, NY for children ages 4 - 12. The rate is $50/per day- 9 a.m. – 5 p.m. (no half-day rates available at this time) DSS accepted. Extended hourly rate: $5/hour Hours of operation: Monday-Friday 6:30 a.m. - 6:30 p.m.
● Second location is the Healthy Kids Programs at the Poughkeepsie Reformed Church
Building ​located​ ​at​ ​70 Hooker Avenue, Poughkeepsie, NY for children ages 4 - 12. The rate is $50/per day (no half-day rates available at this time) 9 a.m. - 5 p.m. DSS accepted. Extended hourly rate: $5/hour Hours of operation: Monday-Friday 6:30 a.m. - 6:30 p.m.
● Third location is the Healthy Kids Early Learning Center ​at​ ​103 Hooker Avenue, Poughkeepsie, NY for children ages 6 weeks to age 3. The rate is $75/per day – 9 a.m. - 5 p.m. (no half-day rates available at this time) DSS accepted. Extended hourly rate: $10/hour Hours of operation: Monday-Friday 6:30 a.m. - 6:30 p.m.
Healthy Kids programs will maintain a clean, sanitized environment by exceeding the cleaning standards that are set by the CDC guidelines. Daily, we will be screening our staff as well as the children entering the program to be sure they are symptom free, which will include conducting regular fever/temperature checks. This program will enable essential staff to continue their crisis-managing work without having to leave children home alone or with a high risk individual, including grandparents over the age of 60.
Register online ​www.healthykidsprograms.com​ ​More info ​registration@healthykidsprograms.com​ or call 845-839-3494
Healthy Kids is one of the largest providers of childcare in New York State with more than 60 locations all over the State.

As the novel coronavirus (COVID-19) continues to affect communities across the globe, CWA leaders are engaging with employers to ensure that they are providing CWA members with comprehensive safety and prevention measures in an environment that encourages open and free communication without fear of reprisal or negative impacts on pay or continued employment.
If you have been exposed to COVID-19 or are experiencing symptoms consistent with infection, please contact your healthcare provider immediately for medical guidance.Members should report any and all instances of exposure or infection to their employer and their Business Agent immediately.
These are some of the questions CWA has asked employers to answer

What are the employer's protocols in place?
2. Are the safety teams trained on the protocols?
3. What specific safety measures are in place to prevent infection while at work?
4. Is there a contact tracing process in place?
5. Is there a symptom or exposure reporting protocol or process?
6. Do you have a business/work contingency plan in case of a required shutdown?
7. What safeguards are in place to protect customer facing employees? (Call centers, Customer's premises, retail stores, Hospitals, airports etc.)
8. How will payment of employees be handled in case of shutdown?
9. How will payment of employees be handled in case of employees with positive tests? Confirmed exposure? Quarantined?
10. How will attendance absences/occurrences be handled as a result of any of the incidents in #8 and #9 above?
11. How has the above information been communicated to the Union leadership?
12. How has the above information been communicated to the employees?
CWA
QUARTERLY
LOCAL MEETING
Tuesday
January 21, 2020
6:00 P.M.
NOVELLA'S
2 Terwilliger Lane
New Paltz
VZ SURPLUS 4thQtr 2019
CWA 1120 is FFA 3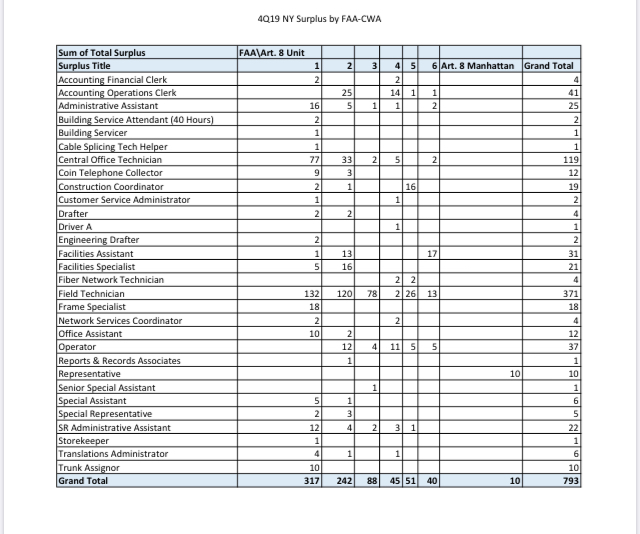 CWA
QUARTERLY
LOCAL MEETING
Tuesday
November 19th, 2019
6:00 P.M.
NOVELLA'S
2 Terwilliger Lane
New Paltz